2021 Chevrolet Silverado 1500 In Prince George, BC

2021 Chevrolet Silverado 1500 at Wood Wheaton Chevrolet Cadillac Buick GMC Ltd.
Chevrolet's vehicles have been around a long time due to their efficiency, capabilities, and reliability. If you are seeking to own a Chevrolet, then Wood Wheaton has an extensive inventory. Our dealership is the authorized Chevrolet Buick GMC dealership in Prince George, British Columbia. We also serve the surrounding areas of Vanderhoof, McBride, Mackenzie, and Fort St James. This article discusses the 2021 Chevrolet Silverado and the features that make it a unique vehicle.
The 2021 Chevrolet Silverado has a body that symbolizes its immerse power. The tech features in its interior are also immense, as they play significant roles in assisting the vehicle in performing essential functions like blind-spot monitoring. The engine that the 2021 Chevrolet Silverado uses is mighty, which plays a massive role in boosting its capabilities. Its braking system also stands out because of how it feels when in action.
Trim Levels
2021 Chevrolet Silverado Work Truck: This truck's engine is capable enough since it has 285 horsepower. It comes paired with a six-speed transmission that can be either manual or automatic.
2021 Chevrolet Silverado Custom: This vehicle has the same engine as the Work Truck, and it also comes paired with a 6-speed automatic transmission. It comes with nine exterior colour options.
2021 Chevrolet Silverado LT: This truck has a seating capacity for at least six people. Its engine is more powerful, as it has 310 horsepower under its hood.
2021 Chevrolet Silverado Custom Trail Boss: This vehicle comes in a four-wheel-drive for tough terrains. There are also 12 colour options for its exterior.
2021 Chevrolet Silverado RST: This truck's transmission system is auto-manual, and it also comes in an eight-speed. Its seating capacity can accommodate up to five people.
2021 Chevrolet Silverado LTZ: The trim level engine is powerful since it has 355 horsepower. This truck can seat up to five people.
2021 Chevrolet Silverado LT Trail Boss: This trim has the same engine as LTZ trim, but its transmission system is a 10-speed auto manual. It has 13 exterior colour options available for your choosing.
2021 Chevrolet Silverado High Country: This vehicle can seat five people comfortably. It has a 355-horsepower engine.
2021 Chevrolet Silverado 1500 Interior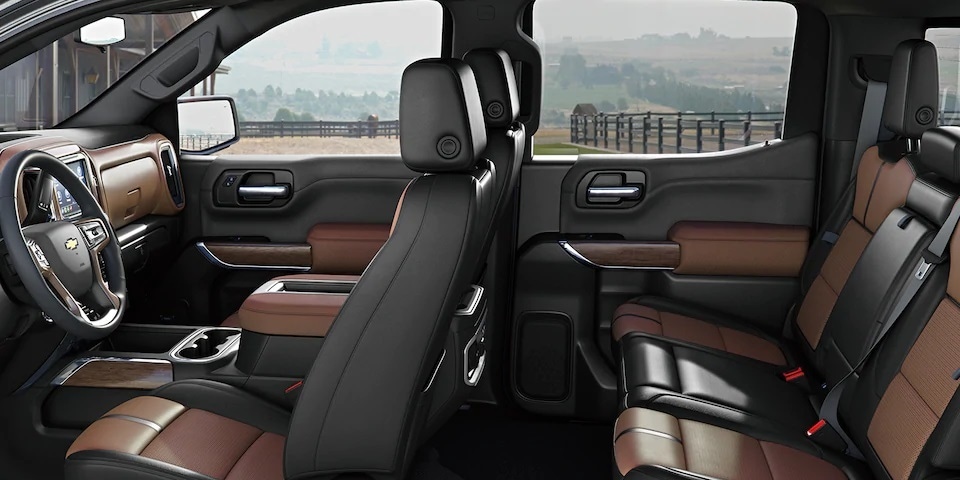 2021 Chevrolet Silverado 1500 Exterior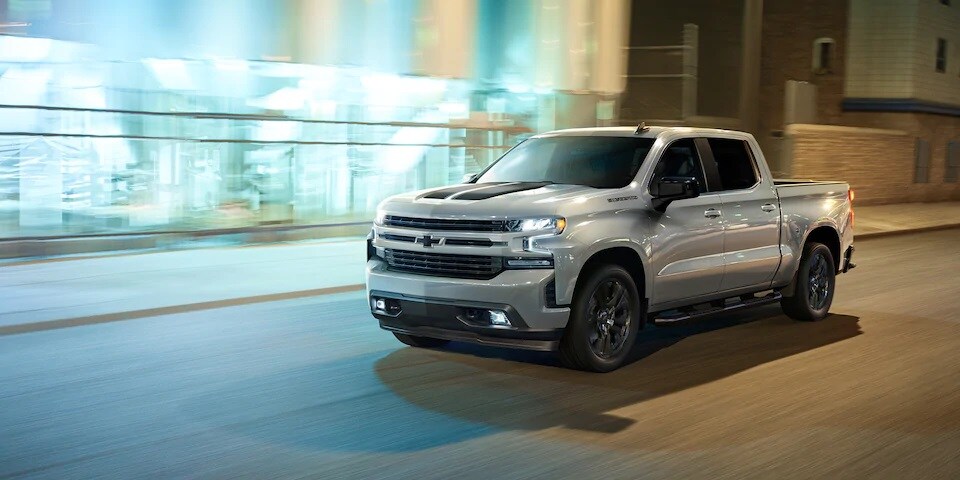 Capabilities of the 2021 Chevrolet Silverado
The 2021 Chevrolet Silverado is a capable pickup truck because of its built and its power from its engine options. This truck can tow up to 13,300 pounds and is more than what most comparable pickup trucks can tow. Therefore, even when this truck tows to its maximum, its performance is not hindered and can acceleration effectively.
Performance Features
The performance of this pickup truck is notable, thanks to its powerful engine. The engine distributes torque to all the wheels well, ensuring that they have the power to propel the truck adequately, even when it is completely loaded. Its automatic transmission system provides that the gears shift accordingly during acceleration without the driver being involved in continuously shifting the gears. This automatic transmission makes sure that the truck has smooth and steady acceleration. The engine does not produce a lot of noise on the road as other trucks do, ensuring that the ride is silent and comfortable for any driver. The brake system is also responsive and can stop the truck quickly, even if it's being driven at high speeds.
Safety Features
The 2021 Chevrolet Silverado has an excellent safety rating because of its safety elements that are throughout the vehicle. A safety technology feature available detects and protects pedestrians from getting hit by the driver. The safety system works by stopping the vehicle by using its emergency braking system. There is also a system that helps the driver to monitor the blind-spot areas surrounding the truck. The blind-spot monitoring system alerts the driver when an upcoming car approaches, so the driver doesn't switch lanes and collide with the approaching vehicle.
Design Features of the 2021 Chevrolet Silverado
Both the interior and the exterior design of the new 2021 Chevrolet Silverado look remarkable. The interior design looks modern, and there are also many tech features within this vehicle for the tech enthusiast. The exterior looks bold and powerful, which indicates that this is a capable pickup truck.
Financing Options
Contact us for more information about the 2021 Chevrolet Silverado 1500 in Prince George, British Columbia and check out Chevrolet vehicles' new inventory. Contact us today to schedule or book a service appointment.
2021 Chevrolet Silverado 1500 Inventory in Prince George, BC